SKATE GUITAR - STRATACASTER STYLE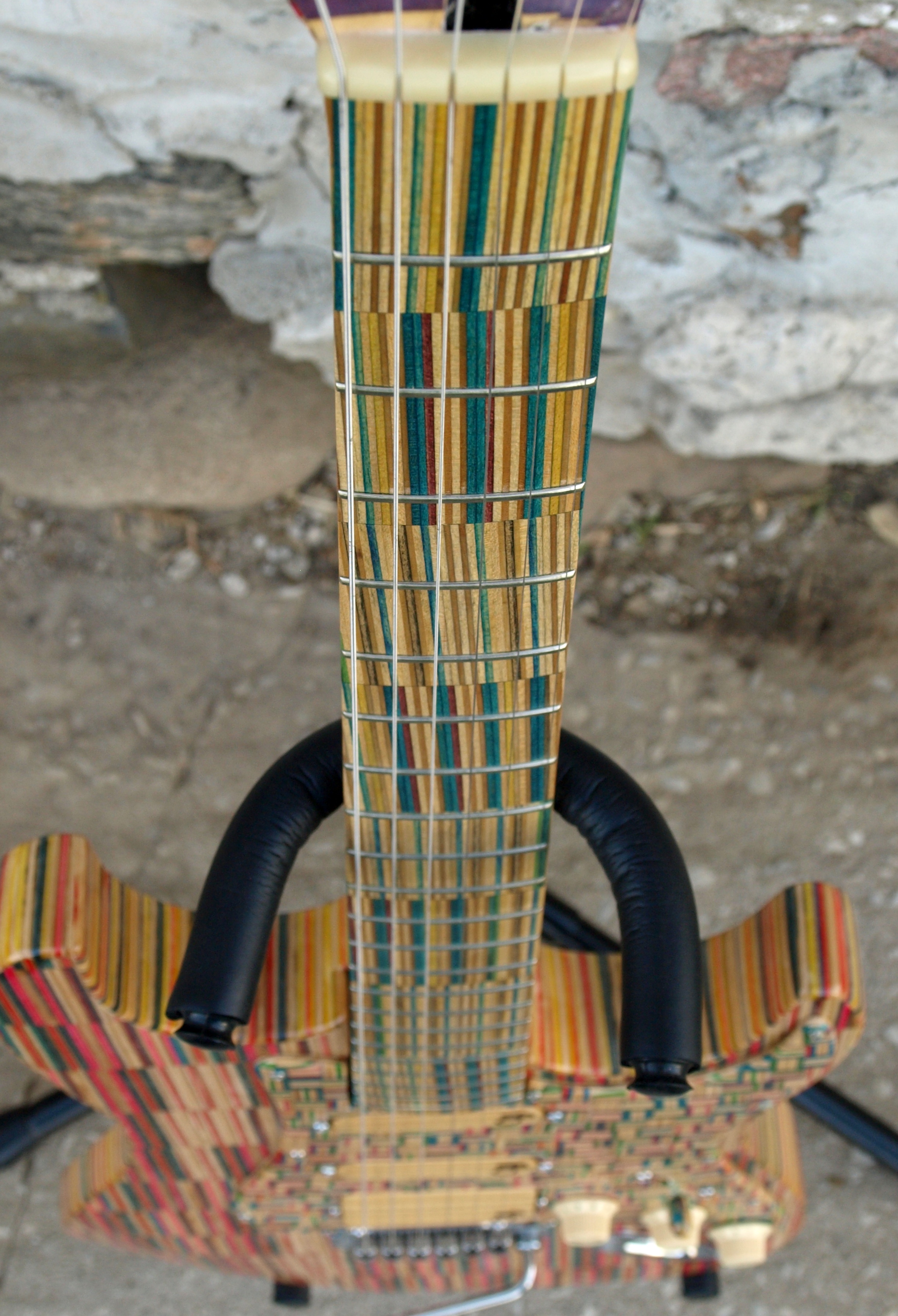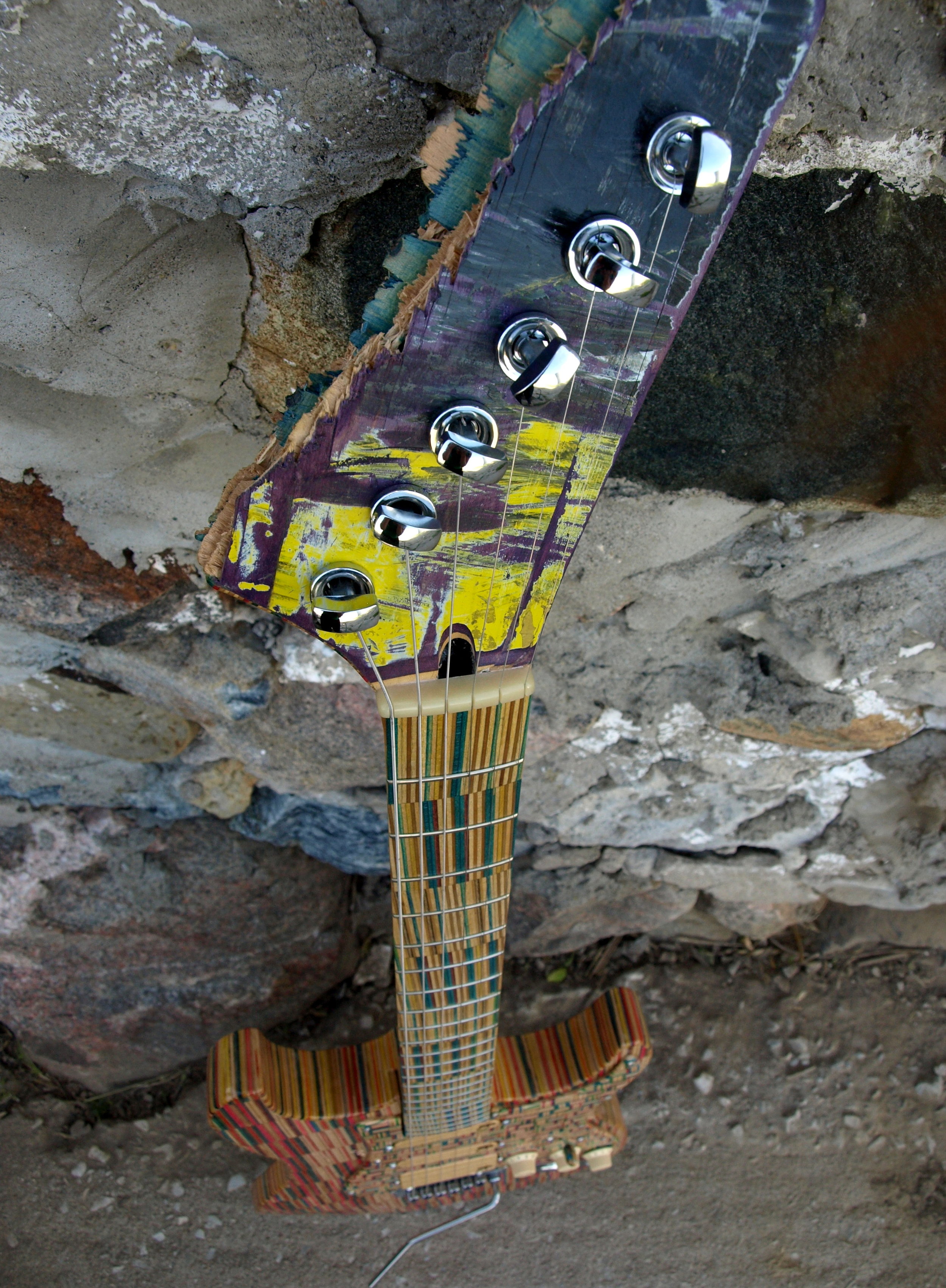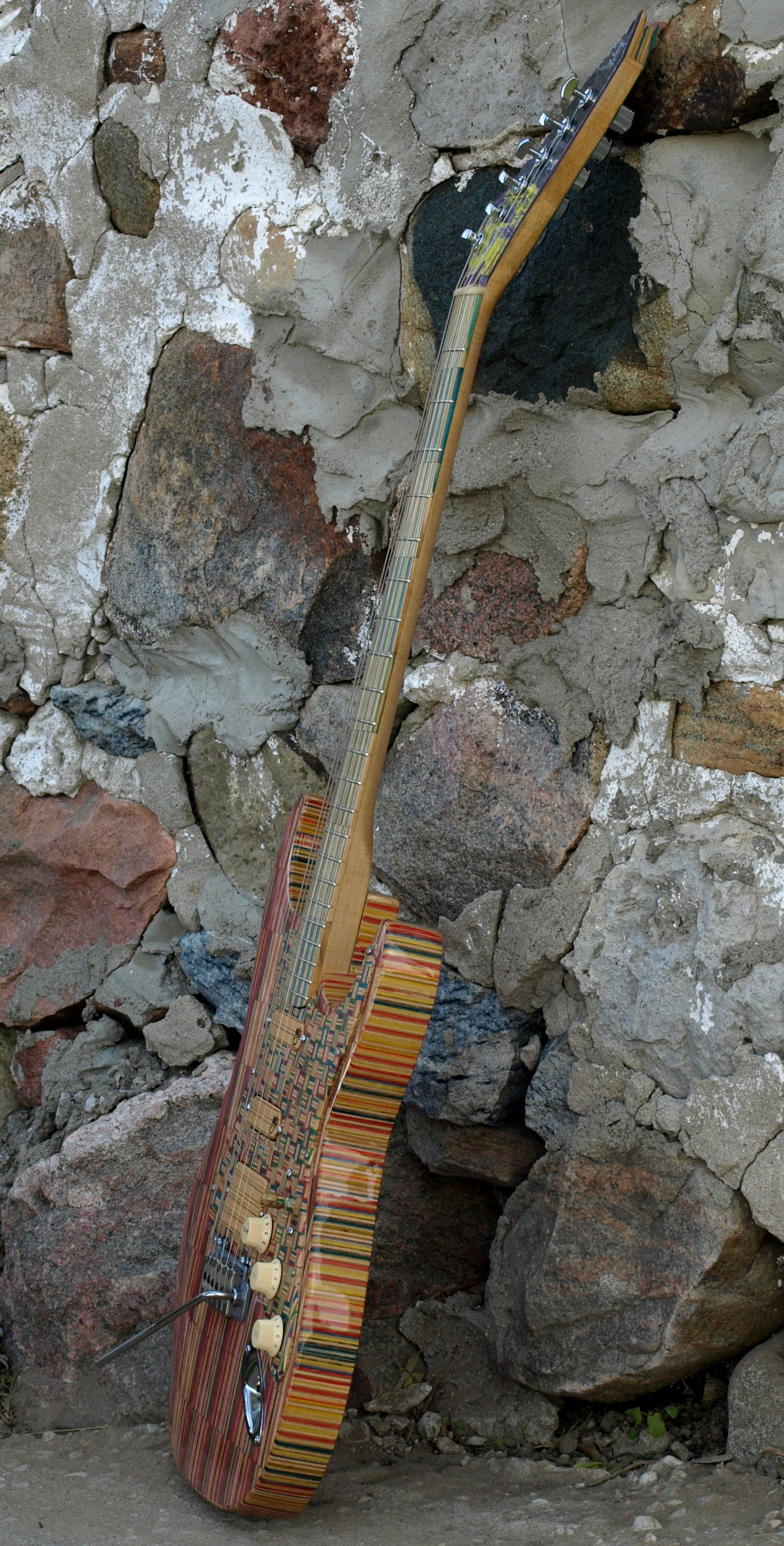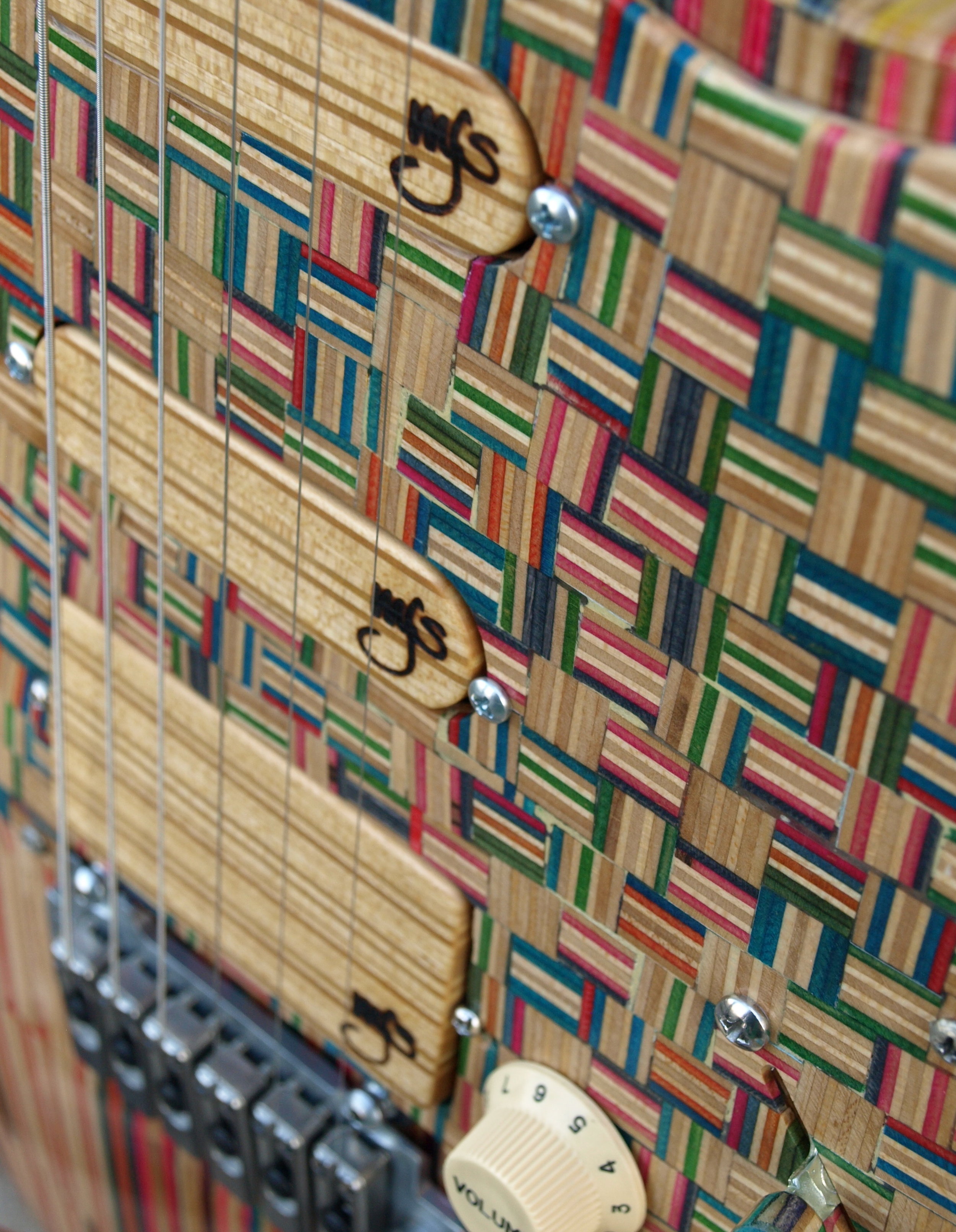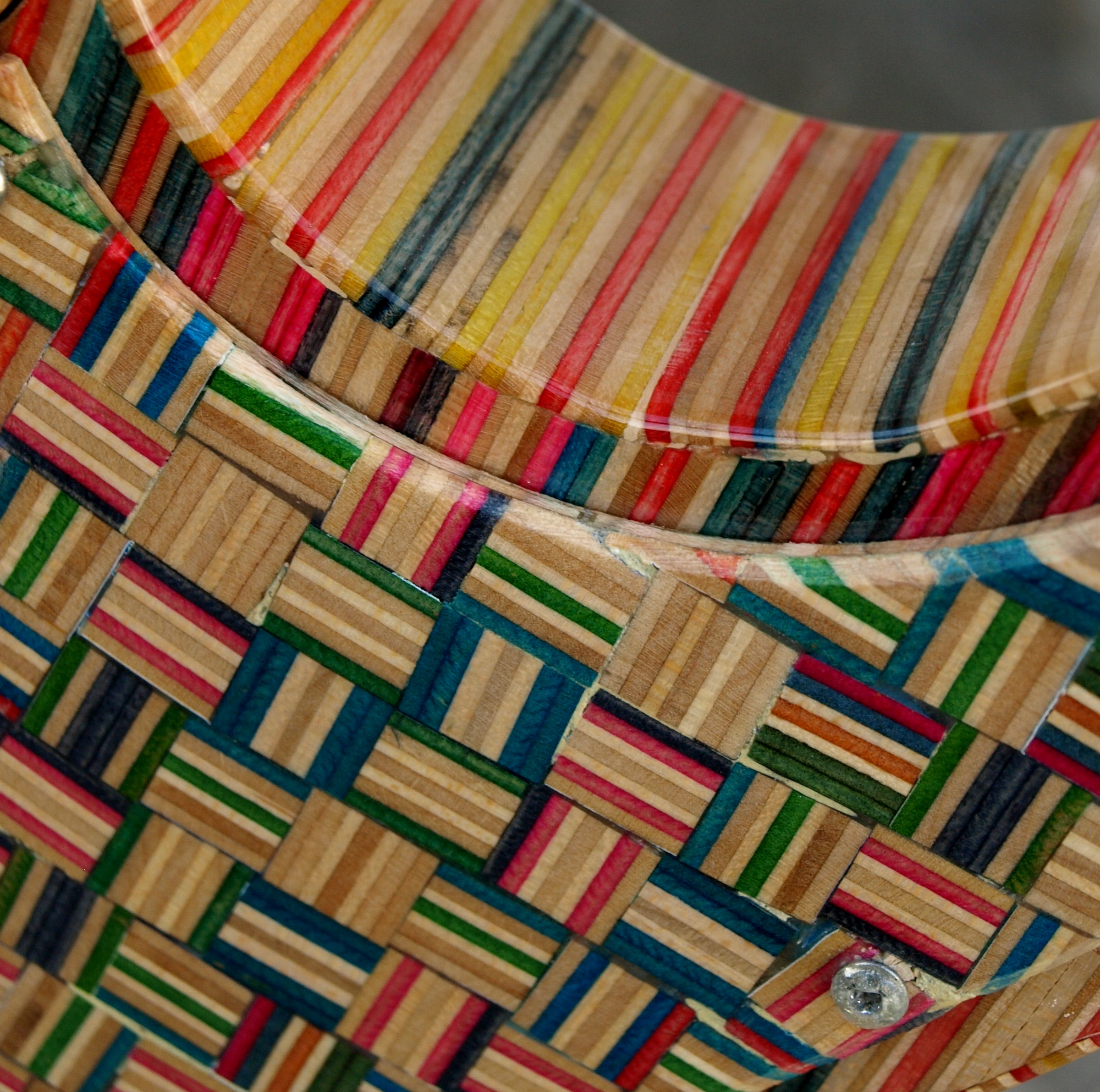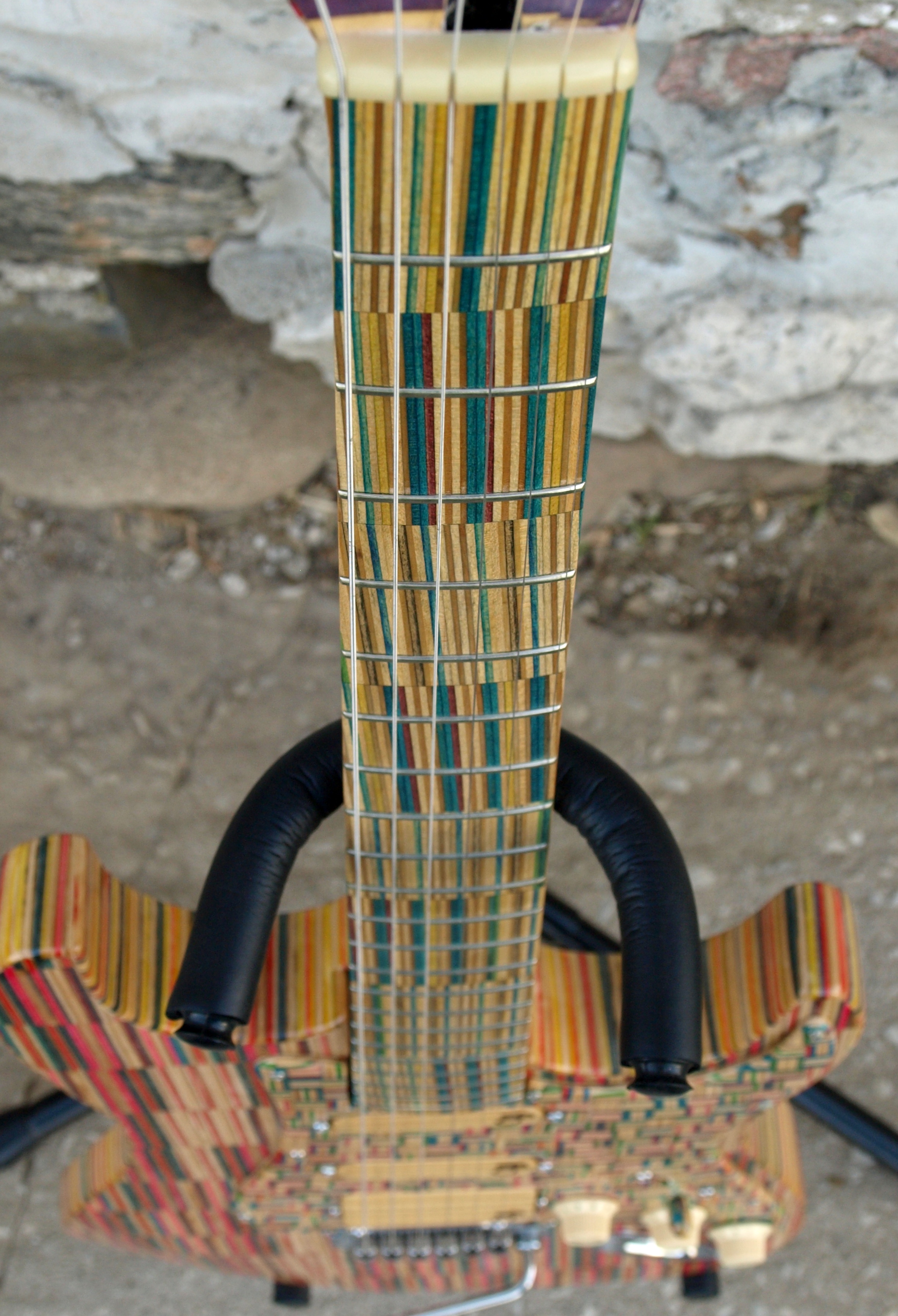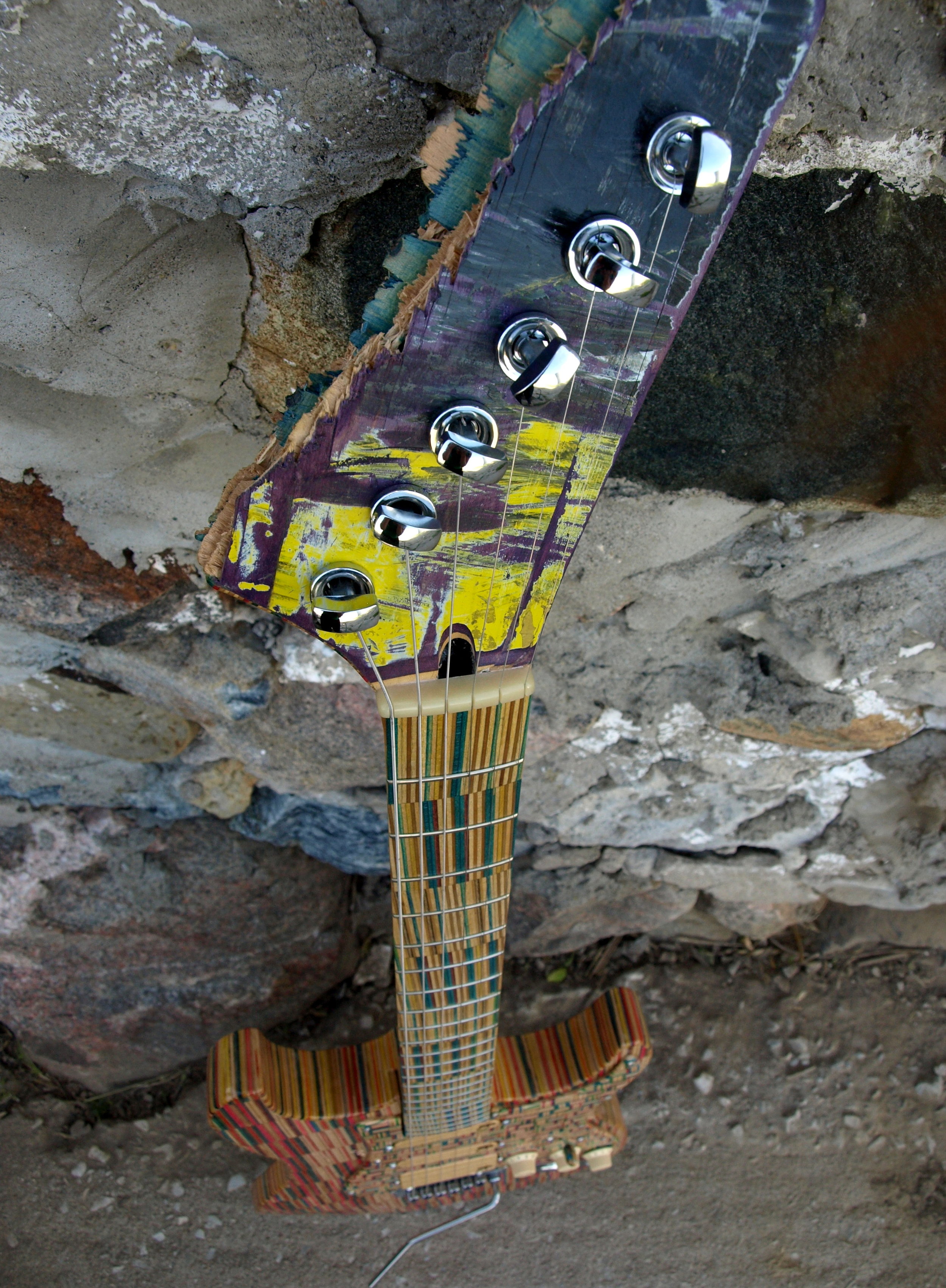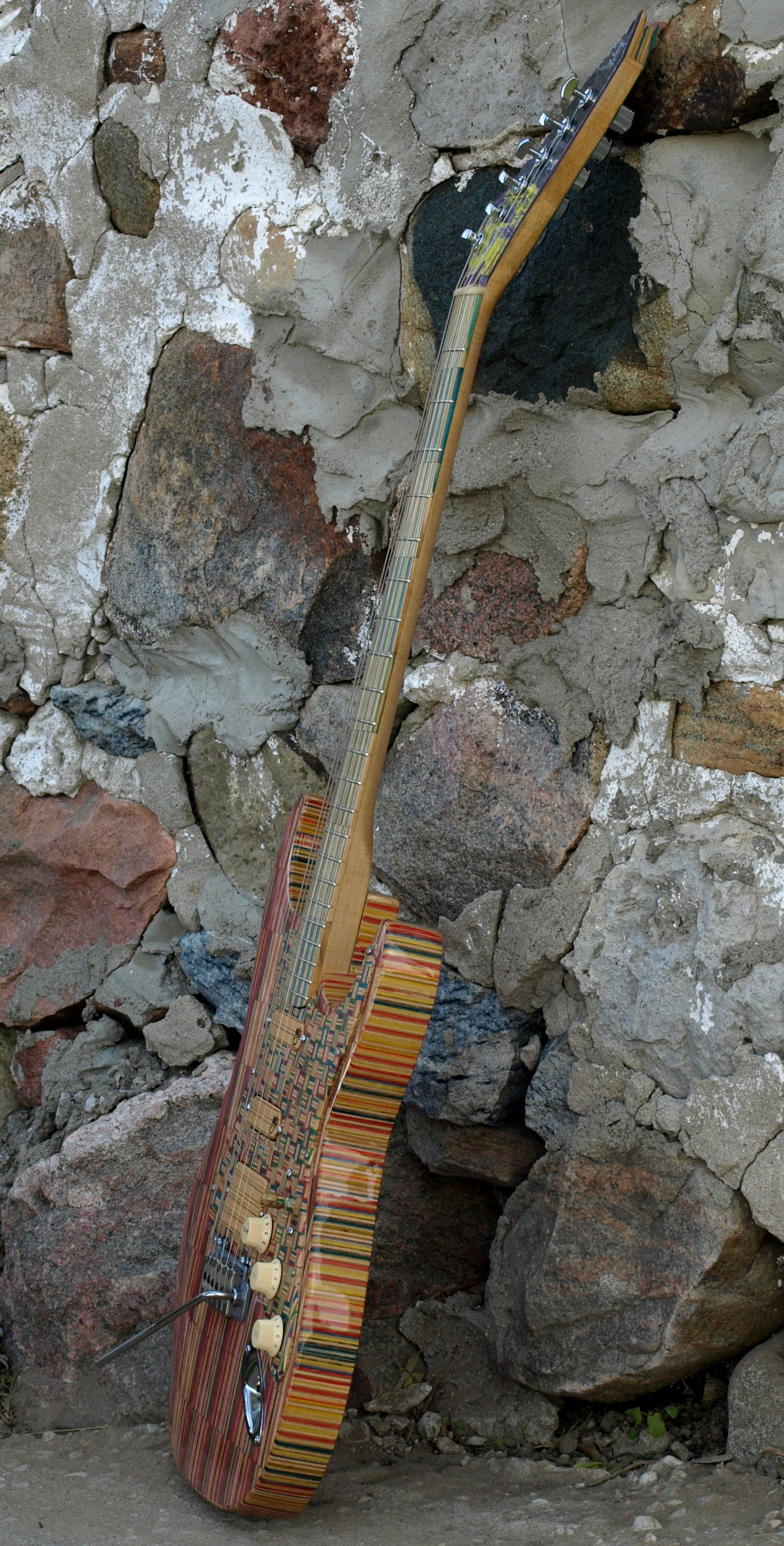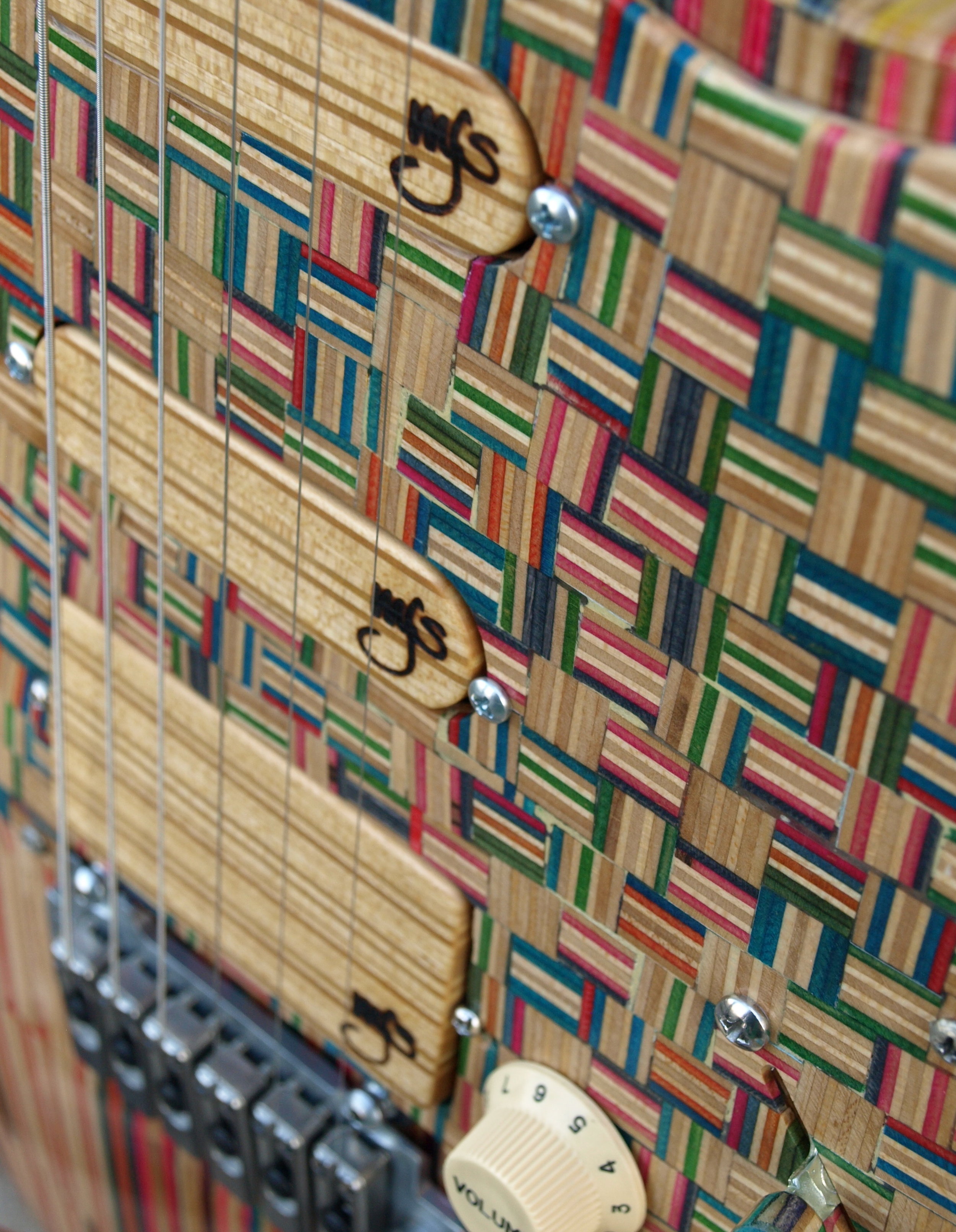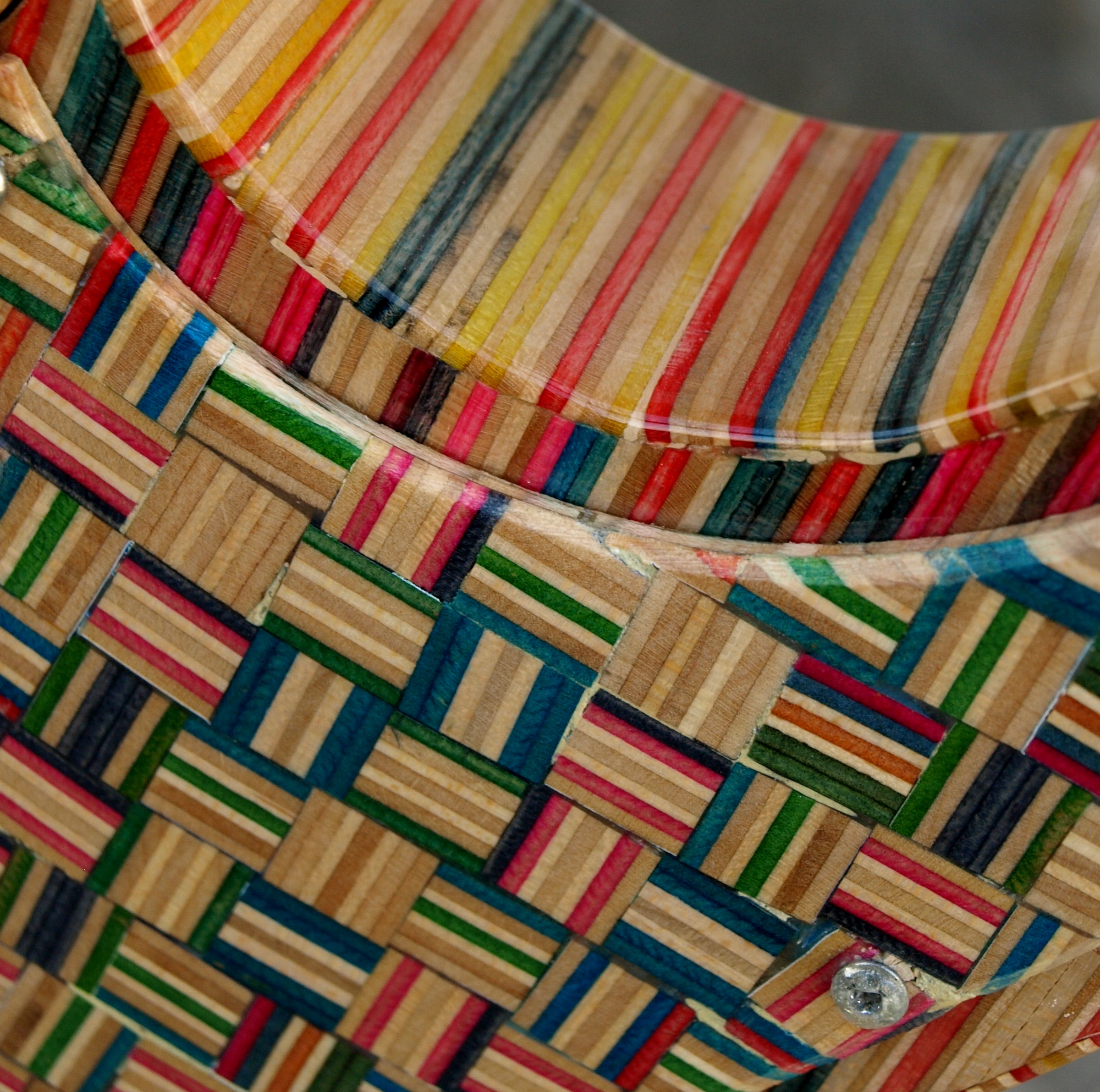 SKATE GUITAR - STRATACASTER STYLE
CUSTOM ELECTRIC SKATEBOARD GUITAR - MADE IN CANADA
Hundreds of dedicated hours went into the making of this one of a kind electric guitar made from recycled skateboards. Only one available for sale. Truly a singular piece of functional art. Would make the perfect gift to buy for the guitar and skateboard lover in your life.
Made by hand with help from a couple friends at the Canadian School of Lutherie in Toronto www.canadianschooloflutherie.com
The fret board and pick guard are comprised of compressed recycled skateboards. The custom pick ups are hand wound and hand crafted from recycled maple skateboards by John and MJS Custom Pickups. Email us for more details - John@2ndShot.ca
The head stock features broken boards and board graphics.
Pick-ups - One Humbucker and a two single coil pickups, with custom made covers from recycled skateboards. Pickups are hand wound by MJS Custom Pickups www.mjscustompickups.com
Neck is Maple, bolt on. Covered in recycled skateboard. headstock features board graphics. 12 degree compound radius. Controls - Five position pick up selector, master volume and master tone.
Bridge is Wilkinson
Sounds amazing!!! Email us for a sample clip! or more pictures! or any questions!John@2ndShot.ca
Comes in a brand new hard case.
Free Shipping in Canada. You need to buy this guitar.
CHECK OUT JOHN'S PROCESS
I collect the used, broken and unwanted skateboards from local skate shops, skate parks, local skaters and friends.

I select the boards/colours to be used. (Skateboards are made from seven layers of cross laminated maple ply, with some of the layers dyed different colours depending on the brand and mfg.)

I remove the grip tape and cut the skateboards into workable pieces/sizes.

I sand the graphic and the top cop lacquer off the pieces I just cut.

I glue and compress the pieces of cut and sanded recycled skateboards into a block with 1000-2000lbs of pressure.

I sand the skate block once it has dried.

Old guitar is donated to me.

I sand the guitar

I draw a pattern/design I want for guitar.

I cut small square pieces from the skate block.

I glue each individual piece onto the sanded guitar. (front, back, side)

I sand the guitar on the belt sander.

I sand the guitar by hand.

I apply 4-5 coats of clear coat onto the guitar and wet sand in between each layer

I cover maple neck in recycled skateboards.

Sand and shape the neck.

Make and install head stock

Frets are installed by hand By The Canadian School of Lutherie.

Neck is bolted on to the guitar.

Pickups are made by John and MJS Custom Pickups.

Components, Strings, and Controls are installed by Canadian School of Lutherie.

Guitar is tuned and played.